Obviously, the Trojans took a much needed rest this past weekend after a hard fought win against Idaho. However, the rest of the weekend shaped up beautifully with plenty of college football action, a stacked UFC 75 card from London, and NFL opening weekend. As well as opening weekend for
Fantasy Football
! While I ran solo this weekend, a few of the bloggers made the annual pilgrimage to Mecca...also known as Las Vegas. Good times for everyone. Here's some weekend analysis for you to chew on, you fucking
dags
.

LSU 48 Virginia Tech 7
:Very impressive. But Sean Glennon sucks. Always has and always will. So much for America's team. The party's officially over.
Oregon 39 Michigan 7:
I really, really enjoyed this. I think I got a little wet when Dixon ran that fake Statue of Liberty. Its gonna be tough at Autzen Stadum this year. Henne and Hart have officially exited the Heisman race.
Penn State 31 Notre Dame 10:
Not much to say here. Notre Dame still has yet to score a touchdown with
mastermind offensive genius
Charlie Weis running the show. How many times does t
his guy
fist-pump in his office alone when he sees Notre Dame play?
Texas 34 TCU 13
: Oklahoma will handily beat Texas this year. I would say you heard it here first, but everyone else beat me to it. McCoy is officially in a sophomore slump. And we all agree that Sweed is overrated. Big time. Charles is looking much improved though.
Nebraska 20 Wake Forest 17:
Were they hiding plays or is Rey Maualuga foaming at the mouth for a shot at "Big Mouth" Keller? I'll take the latter. Its on for Saturday.
Washington 24 Boise St. 10:
Is Jake Locker the west coast version of Tebow? Perhaps, but Ty is 2-0 with THE Ohio State University coming to town.
UFC 75
: Advertised as one of the most stacked and historical cards to date. I expected a little more, but it was still quality. Great performances by Marcus Davis and Houston Alexander as well as the main events below.



Quinton "Rampage" Jackson defeats Dan Henderson

:
Jackson unifies both UFC and Pride light heavyweight belts by beating Dan Henderson via unanimous decision. It looks like Rampage is on top for now. Possible opponents for Jackson are the winner of Liddell-Jardine or Griffin-Shogun Rua.

Cheick Kongo defeats Mirko Cro-Cop
: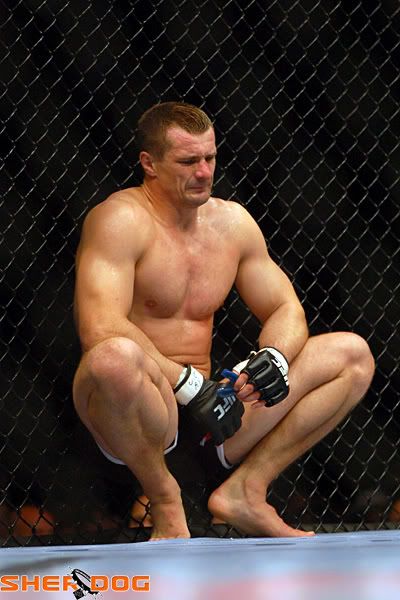 Cro-Cop suffered his 2nd loss in a row in the UFC to Cheick Kongo via decision and one has to wonder what is left of Cro-Cop's future. He might have to drop down to light heavyweight because he can no longer stalk his prey as he once did in Pride. The intimidation and respect factor is gone.
Michael Bisping defeats Matt Hamill
:
Arguably the worst judging performance in MMA history. Hamill clearly beat Bisping in front of his home-town crowd with superb striking and multiple take downs and ground n' pound. Bisping's post-fight interview and his own fans booing him said it all. I lost whatever respect I had for Bisping after this fight. He'll get his soon enough. That prick.
There was also some great NFL action this week.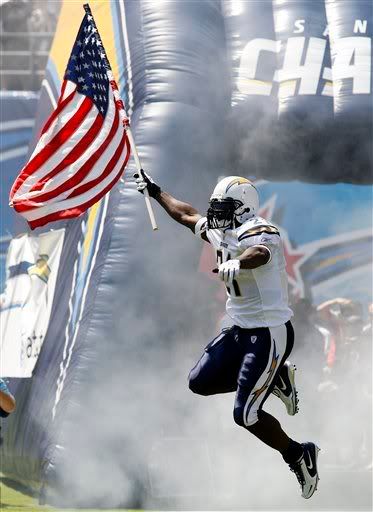 LT ready to score some major fantasy points for my team, the New Originals.
And Randy Moss proved why the New England Patriots are the team to beat this year. He's back.
And I am not sure if Auburn and "Cadillac" Williams really wanted to play USC in 2004. Especially with ex-USC linebacker Lofa Tatupu laying the wood, like he did on this play. Cadillac felt a little of what Pete Carroll's defense is like. And by the way, go South Florida. Auburn sucks. Tubberville swallows.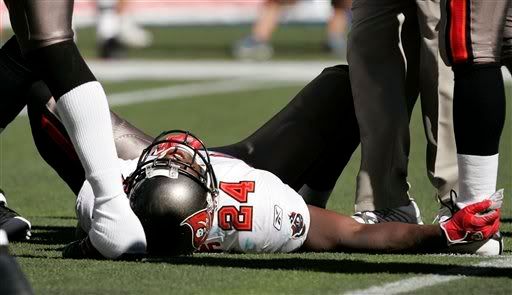 Full Nebraska coverage coming this week. You ladies have a good day.