Ladies and gentlemen, the party at Westwood High has officially ended. If there was ever a way to start the USC-Nebraska game, it was with a UCLA loss. In fact, loss was an understatement after the Mighty Utah Utes destroyed UCLA and their "show-me" season, 20 returning starters, and South Paw Jesus. Here's a photo recap for all our readers on what went down before Nebraska.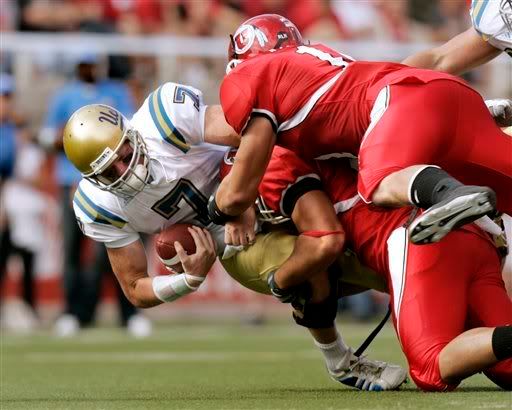 The kids across town refer to Ben Olson as "South Paw Jesus", when the only thing they share in common is crucifixion.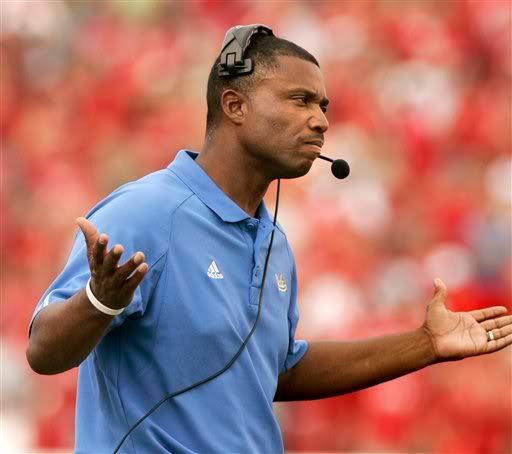 Defensive Genius at work everybody



(sigh)



I took a few of these quotes from a rival blog before Saturday...


"I don't think the Bruins could ask for a better opponent to get the anemic offense clicking heading into the main Pac-10 season".......
"Have a fun Friday night everyone. See you tomorrow as get ready for what should be a blowout Saturday."
"This is a sure fire win. no question.

Well......Things sure can change in a hurry as I caught this little quip from a loyal Bruin fan following Saturday's game...
"I turned the game off and now paying bills. I think I'll iron a few shirts tonight. A lot of downtime. I think I'll spend more time with the dogs"
Pathetic. Just pathetic. For a team that is "supposed" to challenge for a Pac-10 Title, they look as though they'll be lucky to challenge for the Sun Bowl. I can name 8 teams in the Pac-10 that can take down these clowns. They can "13-9" all they want, but the fact remains.... December 1st is rapidly approaching.
Favorite moment of the night
:
Everett running for a TD and then fumbling the ball into the endzone for a touchback.
Of course you can blame Karl Dorrell for that since Karl should have held onto the ball a little tighter. You could also fire Walker since he was actually on the field missing tackles all night, right? I mean, how could you not fire Dorrell after "South Paw (school girl giggle) Jesus"threw 3 picks? Dorrell should have thrown the ball away instead of forcing it into coverage. Come on, Karl, you know better than that.
On a more serious note, Route 44 will be when the sports world realized what everyone in LA already knows and that is...UCLA is a joke. And so are their fans. Especially the ones calling for Dorrell's head. They should be calling for a new roster if you ask me. We all expected UCLA to lose a lot this season, but already to Utah? I love it. Mark my words, this is where the train goes off the tracks and everything spins out of control for a program already on the shelf.
Fuck the Bruins.

Fight On!